Table saw is one tool that gets most use by many woodworkers. By table saw machine all cutting tasks gets easier. Many of advanced featured table saw is available in market but it has high price so I decided to make for my own and I went to work to build my own table saw. Now a, days different types of tool available and used for woodworking table saw is one of them. For better and accurate working performance it's necessary to have table saw machine. This table saw has not complicated parts it has simple design and easy to build. I have used 5" circular saw machine instead of heavy motor and other complicated component.
I also made movable fence with table saw machine. Movable fence is important part of table saw machine for perfect and accurate cutting operation. Movable fence needs to stay perfectly parallel to the cutting blade. A perfect table saw machine is often the first machine the aspiring woodworker wants for the workshop. Circular saw is best for initial cuts for plywood sheets and single cuts. Portable table saw do not have enough space to cut full sheets of plywood, A full sheets have to be cut in to partial to safely use on a portable table saw.
Plywood sheet (18mm thickness)
5" Circular saw machine
5" circular saw blade
Bolt and knob
Small screw with nut and washer (6 pcs)
Wooden strips
First step of making a table saw machine is make a table. I have used 18mm thickness plywood sheet. First of all cutting accurate size of sheet for table, all the dimension are shown in the image. So after cutting of accurate size of sheet assemble it in correct position. For assembly use of long size screw and glue is necessary. For better strength and reduce the vibration of table, it's necessary to use glue. After that, make sure that the table has high strength and there is no vibration in it.
Step 2 :- Attach circular saw with table
After making of table the next step is to attach the circular saw machine with table. I make table saw machine with use of 5" circular saw machine. The quality and voltage of circular saw machine is required to be high for smooth and fast cutting operation, so make sure that the circular saw is of high quality. Now attach the base plate of circular saw machine inside the table by screw. Base plate of circular saw is attached by 6 screw and nut so the circular saw is fixed with table. For smooth and fast cutting of wood make sure that the circular saw blade is also of high quality.
Step 3 :- Make a movable fence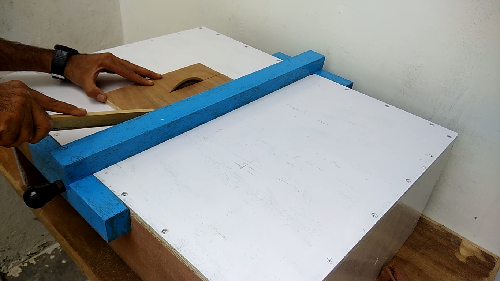 After the making of movable fence table saw machine is ready to use. You can also paint it for better look of table saw.
Easy and smooth cutting of wood.
Fast cutting operation.
Cutting operation is in accurate size and dimension of wood.
Safety of worker is increased.
Cost of this table saw is very less.
Easy to make.
Easy to maintain.
for more information, watch the video given below.